Source:Aceall WoodAuthor:admin Addtime:2019/08/09 Click:
When sourcing wood, there are plenty of options to choose from. Among the most popular types are timber and plywood for they are used widely for building and furniture.
Importers choosing between these two could be asking, which is better over the other? Listed below are the advantages and disadvantages: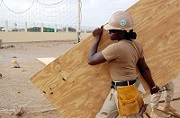 Timber pros
• Good insulation – Timber is said to be better than bricks in keeping warmth in.
• Sustainable – Timber can come from a renewable source.
• Nice aesthetics – Timber has natural wood looks.
Timber cons
• Shrinking – Absorbing water, timber shrinks easily.
• Poor fire-resistance – Most timber in the market don't have fire ratings.
• Easily loses color – Exposure to weather affects timber hue over time.

Plywood pros
• Less expensive than timber – Plywood is made of thin layers.
• Crack-resistant – Plywood can be used as walls and ceilings.
• Flexible – Plywood layers are glued at alternating angles, which helps withstand bending.
Plywood cons
• Not water-resistant – Water can seep through layers, making plywood get thick and soggy.
• Glue not eco-friendly – Glue used should be E0-grade, like what some suppliers are offering.
• Must be improved in design – Unlike natural wood that has patterned grains, plywood is plain.
Given these strengths and weaknesses, what to choose depends on the application or market where the wood will be sold. For instance, importers better source timber if the building or furniture market segment they want to enter focuses on aesthetics (for wood-façades and high-end tables or chairs). On the other hand, buyers looking for structural strength enhancements (beams, wall and roof bracings, linings, ceilings and claddings) and focus on the mid- to low-end markets can source plywood.
For timber and plywood that suit buildings and furniture, importers can come to our China ACEALL GROUP to source them easily.